Keep in touch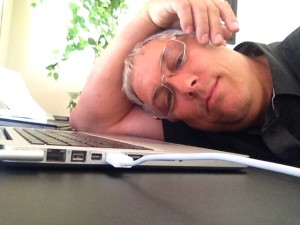 It was about 1986. The first metal building erection job where I was solely in charge of the erection crew. The contractor was walking around the job with a satchel the size of a car battery, a phone handset on top.
"Mobile" communications. I want.
1996-ish, after a succession of radios, truck phones, bricks and then flip phones I remember standing on a roof at the peak of a sugar warehouse ninety feet above the ground. I was trying to get a cellular signal for faxing my estimates using a Motorola StarTAC and Toshiba laptop. Most of my customers did not yet have email and had never heard of pdf docs.
2006-ish, I barely noticed the iPhone introduction and I was sure I did not want all that nonsense on my phone. I don't think I got my first iPhone until about 2009 or 2010. I'd spent years frustrated by my efforts to push digital field documents out to the jobsite with terminal servers, websites and custom db applications. Once I finally ditched my Blackberry and purchased an iPhone, It was immediately apparent, this is what I had been waiting for. A pocket size computer with internet access that anyone can instantly understand how to use and interact with.
I've been called a hi-tech redneck and a gadget freak. The bottom line is I like shiny new electronic devices and I am kind of obsessive about data collection. I taught myself how to write code in order to build the project management and estimating systems that we still use to run my construction business. This was well before there were commercially available options. I have been trying to push the data collection for those systems out to the field since the day of the Palm Pilot.
Now I am developing, finally, those systems that I have dreamed about for all those years. See my latest iPhone apps from Tailgate Technology.
CMBSC has also been very busy of late. In fact, I am proud to say that I have the very best, most competent and conscientious metal building erection teams in the field. See CMBSC Website for more information about our Prefab Metal Building Contracting Services. It's flash, sorry mobile users. I will fix that soon.
My Contact Info: email-
dean@deansdavids.com
twitter-
@deansdavids
LinkedIn-
Dean Davids